NT Assures Customers of Optimum Security with 24/7 Monitoring System
         Telecommunication has become one of essential elements in business operations, particularly voice communication, spanning Call Center used by many companies, information transmission via the Internet within and outside the organizations and data storage on Cloud. Generally, each type of communication must function in synergy with others. This means that the supporting network and management system must be solid, stable and safe, in terms of the infrastructure. Further, area coverage must meet the standards. Service providers must be available for contact when a problem is detected. Troubleshooting must be analyzed and solved with no delay.
         For this reason, NT has developed the Integrated Network Management System : INMS, which includes monitoring officers stationed 24 hours every day and more than 100 area technical teams, to ensure the connection of our communication system deliver highest efficiency.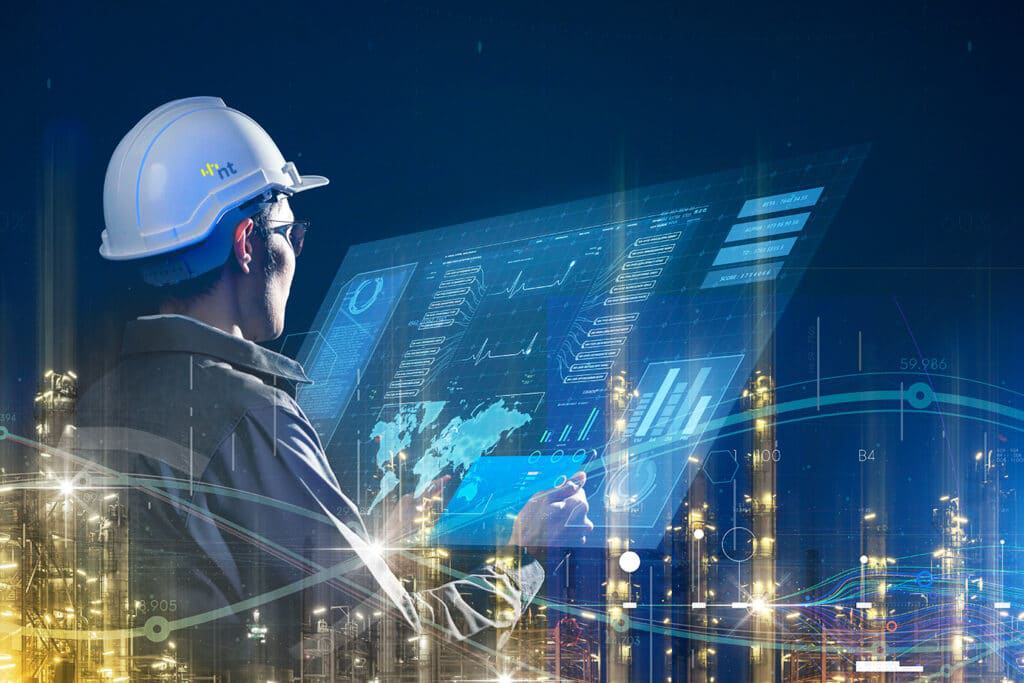 Integrated Network Management System : INMS
         Designed as an efficiency enhancement tool for NT network management system, the 24-hour Integrated Network Management System : INMS aims to assist the officers in system operations and inspection. Additionally, the system ensures a more precise troubleshooting when an error is detected. This centralized operations is controlled by the Network Operation Center : NOC, which serves as a central commanding center that monitors the system, basing on major roles as follows:
● Monitor the communication network system throughout 24 hours. Once an error or problem is detected, the system will notify and proceed the issue to a related department for solving with no delay to prevent widespread impacts to the users.
● Monitor the system through 24 hours to oversee and prevent possible system errors. Stand by to be able to fix errors in good time. For example, when the fiber optic cable system or FTTx breaks down, the system is able to display the affected locations with precision and speed. Online solution can be delivered from the central control center. Alternatively, a team of technicians can also provide on-site recovery in case the error involves the infrastructure of telecommunication cable, or a temporary use of back-up system is necessary when the recovery has to be prolonged.
● Respond to notifications related to system error and emergency case from on-site officers, including technicians, call center and customer service staff, to take part in the inspection and problem solving.
● Track the status of network and maintenance with efficiency and speed.
● Demonstrate the overall status of telecommunication network by connecting information from different systems to display in order to benefit the forecast, inspection, improvement and development of the system.
● Evaluate the efficiency and status of telecommunication network, such as the volume of users, efficiency of information transmission, statistics of information usage volume, ratio of information usage congestion by time period, etc. The aforementioned information will be used in analysis and comparison with standard efficiency value for the improvement of NT telecommunication system in the future.
24/7 System Monitoring Officers
NT has designated teams of proficient and experienced technicians to monitor telecommunication network system through 24 hours to ensure the system runs smoothly with minimum errors.
         Once a problem arises within the network, the monitoring team will directly coordinate with relevant officers. A team of technicians will be sent for on-site recovery, while the Call Center/a key account officer makes an appointment with the user to ensure the problem is solved at its best without delay.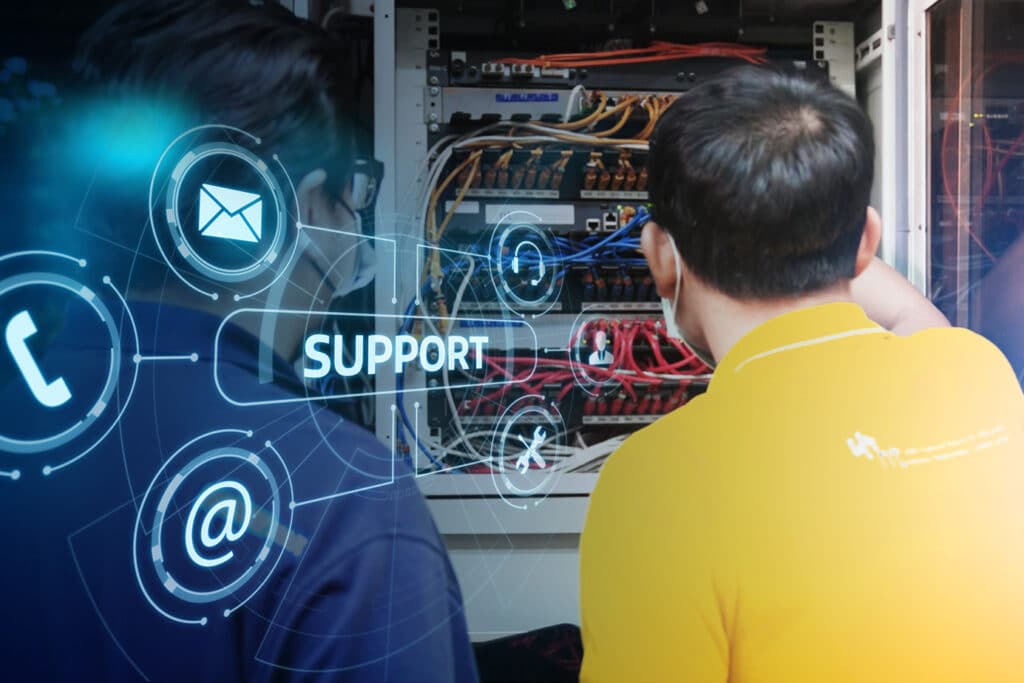 More than 100 Teams of Area Technicians
NT has designated more than 100 teams of technicians to base in Bangkok and the vicinity stationed at service centers in different districts. Customers can rest assured that our team will genuinely understand local problems once an error is detected, and thus can reach out to serve them with no delay. Additionally, accurate information received from our central monitoring officers can also contribute to their capability to solve problems efficiently. Our area technician teams are regularly trained to become proficient with information of new technology that NT delivers to customers. Workshops are consistently provided to enhance their operational competence.
         NT has employed proficient staff, who not only possess rich service experiences, but also received certificates of different IT systems, including Technology Certificate, Engineering Certificate and Operation Certificate. Therefore, our staff can efficiently handle the standards of internal IT system used in customer's organizations and in line with international standards.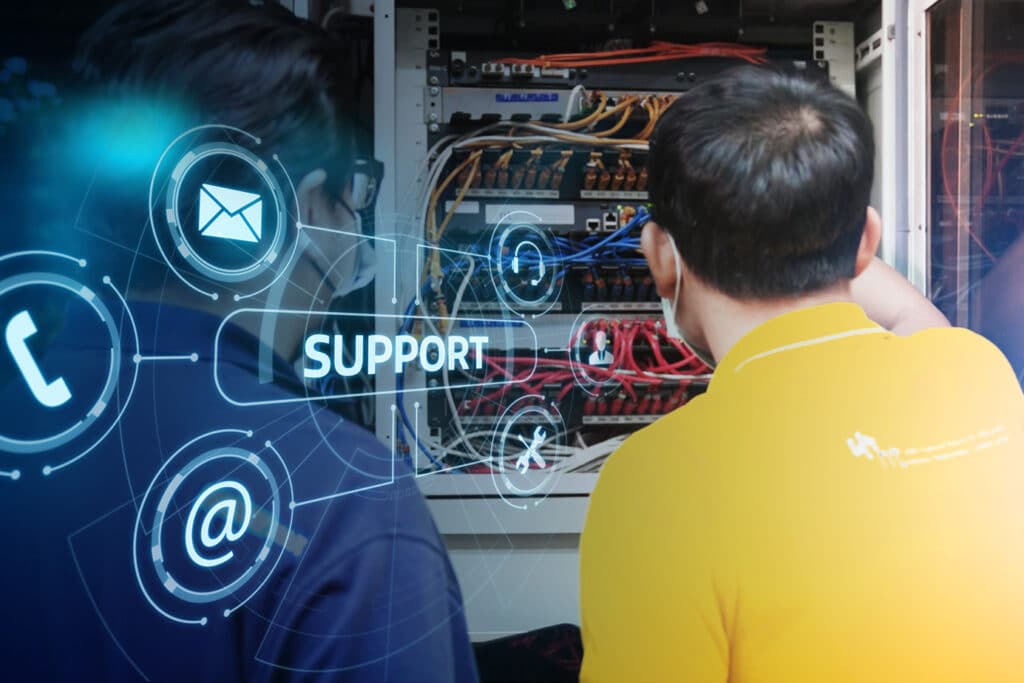 Mr. Wittaya Taweedech, General Manager of Factory Max Co., Ltd. disclosed about his impression of NT services that, "NT has been keen to serve us even during weekends or at night time, ensuring seamless operations for our business. Even if we report technical problems via NT website, updates are shared with us through all channels. We would like to thank NT for its advice since the beginning of system set-up up untill after-sales service. Overall, we are extremely impressed with NT."
         Synergy between three major elements, which are the Integrated Network Management System (INMS), 24-hour system monitoring officers and more than 100 teams of area technicians, will assure customers that NT could provide services with optimum efficiency. Customers can rest assured in smooth functionality delivered by the telecoms system that can bolster business operations to the fullest.
NT has determination in human resources development and after-sales service to assure customers the best service. Consult our specialists for free at NT Contact Center, Tel. 1888 or https://nt-metro-service.com/nt-business-solution-expert/
*Bangkok and the vicinity only